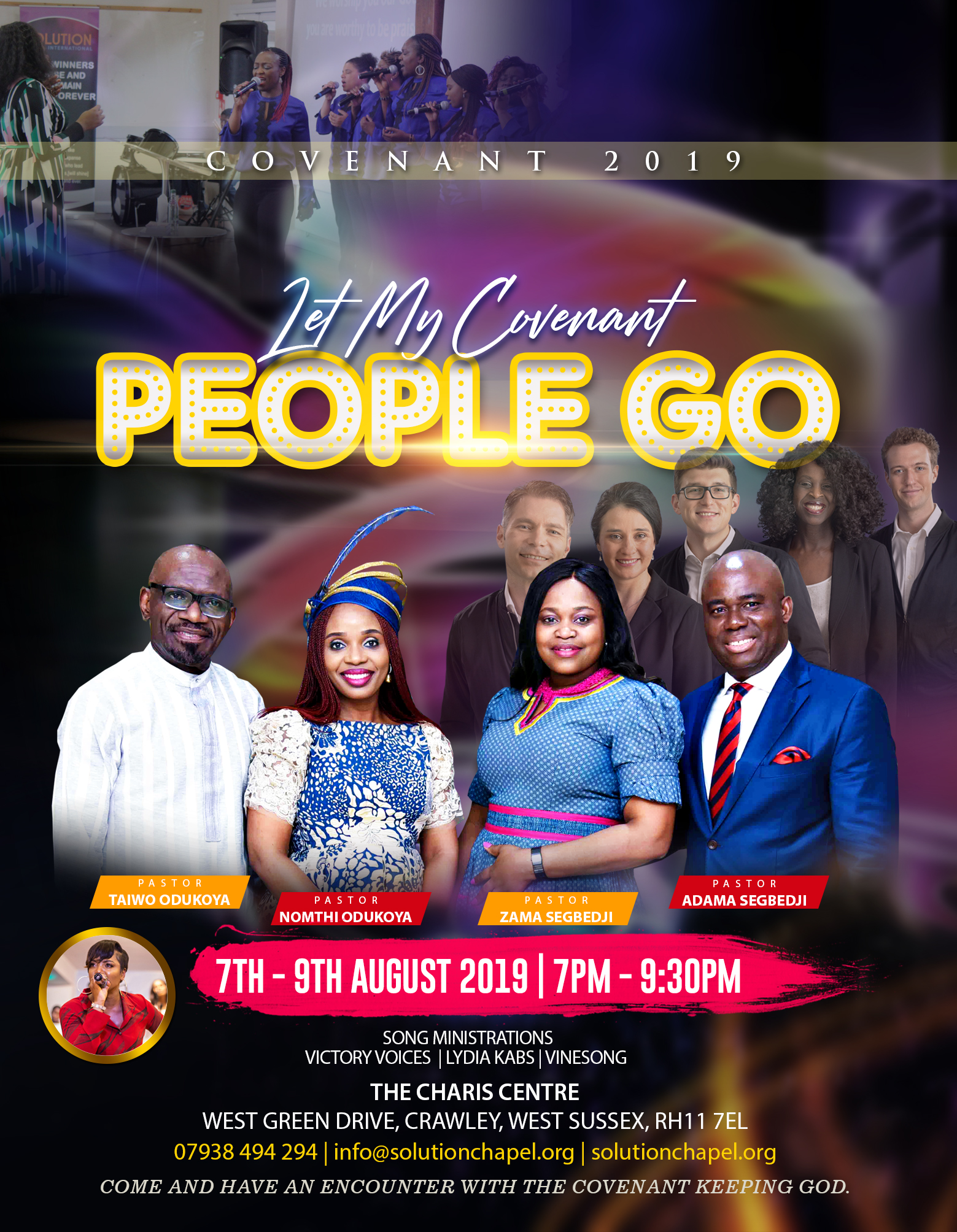 Join Vinesong as they minister in Praise and Worship at Covenant 2019 from the 7th – 9th August 2019 7PM each night with host Pastors Adama and Zama Segbedji at THE CHARIS CENTRE, WEST GREEN DRIVE, CRAWLEY, WEST SUSSEX, RH11 7EL
Contact details – 07938 494 294 | info@solutionchapel.org | solutionchapel.org
Covenant is a Prophetic platform ordained by God to liberate His people from the shackles of the enemy.
Psalm 50:5 Gather my saints together unto me; those that have made a covenant with me by sacrifice.
The Theme for Covenant 2019
Let My Covenant People Go
About Vinesong
Vinesong is an international, interdenominational team of Christian missionaries. The team shares the gospel through worship and the word, living and traveling together 11 months of every year. The team is based in the UK, although the members are each from different nations.It is the heart cry of Vinesong to encourage unity, growth and balance in the lives of believers.
Through worship and teaching of the Word, these changes take place as a necessary preparation for revival.It is Vinesong's desire to see the Father's love extended to every area of hurt and pain in the life of the believer. As people are healed and made whole, they become more fully equipped to carry out the Great Commission – fulfilling the plan and purpose for their lives while introducing others to their very own
."Then Jesus came to them and said, "All authority in heaven and on earth has been given to me. Therefore go and make disciples of all nations, baptizing them in the name of the Father and of the Son and of the Holy Spirit, and teaching them to obey everything I have commanded you. And surely I am with you always, to the very end of the age.""
Matthew 28:18-20